Motorola Moto G is actually a high Android based device that includes amazing features, specifications and also performances. Currently, in case you are tempted in powering up the performance of your Moto G, then you'll most likely begin in performing some unofficial operations like gaining root access, adding the custom recovery image, upgrading using a custom ROM, flashing a custom made kernel and so on. But, when facing such procedures something may possibly go wrong and you can end up in damaging your Android smartphone. Well, in the event that happens, you'll have to hard reset your Moto G to be able to resolve the problems and then for fixing your bricked device.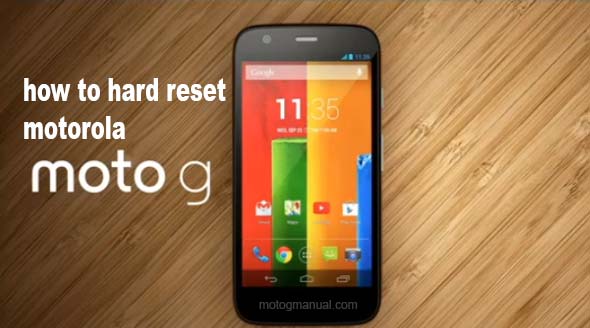 A hard reset or if you similar to a factory reset has been required for some other reasons too. For example in case your Moto G is slowly and also runs with lags, you need to hard reset your Android smartphone. By making this operation you will restore your phone to factory settings and to its initial state. So, if you had recently updated your Moto G with a custom ROM or with a new firmware that is buggy, now you can hard reset your device for removing the old software – in that matter you can also use the stock recovery image for installing an official update on your phone.
How to Hard Reset Motorola Moto G using stock recovery image
Motorola Moto G can be hard reset with 2 methode, you can try one of them.
Classic method
The first method can be applied by using the menu of your Moto G – so this operation can be performed only if you can access your phone.
So, tap on the menu icon from your Moto G.
Then select "settings".
Choose "backup and reset" followed by "factory data reset".
Up next select "reset phone" and wait while the hard reset procedure is being completed.
Manual method
For this variant you will perform an external hard reset.
So, first of all turn off your Moto G.
Then enter your Android smartphone in recovery mode.
From recovery mode you then need to select "wipe data factory reset".
Use the Volume Up and Down buttons in order to scroll down or up within the recovery menu and press Power button in order to select your option.
Perform the factory reset by completing the mentioned operation; then, if your phone is still slow you might want to clear cache; in order to do so, from the same recovery mode menu select "wipe cache partition".
Finally, return to main menu of recovery and select "reboot system now".
Done.
Great job, you have now successfully learned how to hard reset Motorola Moto G, so basically now you know how to fix a bricked Android device