Notice
: Trying to access array offset on value of type bool in
/var/www/motogmanual/data/www/motogmanual.com/wp-content/themes/reboot/vendor/wpshop/core/src/Advertising.php
on line
379
Notice
: Trying to access array offset on value of type bool in
/var/www/motogmanual/data/www/motogmanual.com/wp-content/themes/reboot/vendor/wpshop/core/src/Advertising.php
on line
379
Notice
: Trying to access array offset on value of type bool in
/var/www/motogmanual/data/www/motogmanual.com/wp-content/themes/reboot/vendor/wpshop/core/src/Advertising.php
on line
379
Notice
: Trying to access array offset on value of type bool in
/var/www/motogmanual/data/www/motogmanual.com/wp-content/themes/reboot/vendor/wpshop/core/src/Advertising.php
on line
379
Notice
: Trying to access array offset on value of type bool in
/var/www/motogmanual/data/www/motogmanual.com/wp-content/themes/reboot/vendor/wpshop/core/src/Advertising.php
on line
379
Notice
: Trying to access array offset on value of type bool in
/var/www/motogmanual/data/www/motogmanual.com/wp-content/themes/reboot/vendor/wpshop/core/src/Advertising.php
on line
379
Notice
: Trying to access array offset on value of type bool in
/var/www/motogmanual/data/www/motogmanual.com/wp-content/themes/reboot/vendor/wpshop/core/src/Advertising.php
on line
379
Notice
: Trying to access array offset on value of type bool in
/var/www/motogmanual/data/www/motogmanual.com/wp-content/themes/reboot/vendor/wpshop/core/src/Advertising.php
on line
379
Notice
: Trying to access array offset on value of type bool in
/var/www/motogmanual/data/www/motogmanual.com/wp-content/themes/reboot/vendor/wpshop/core/src/Advertising.php
on line
379
Notice
: Trying to access array offset on value of type bool in
/var/www/motogmanual/data/www/motogmanual.com/wp-content/themes/reboot/vendor/wpshop/core/src/Advertising.php
on line
379
Notice
: Trying to access array offset on value of type bool in
/var/www/motogmanual/data/www/motogmanual.com/wp-content/themes/reboot/vendor/wpshop/core/src/Advertising.php
on line
379
Notice
: Trying to access array offset on value of type bool in
/var/www/motogmanual/data/www/motogmanual.com/wp-content/themes/reboot/vendor/wpshop/core/src/Advertising.php
on line
379
Notice
: Trying to access array offset on value of type bool in
/var/www/motogmanual/data/www/motogmanual.com/wp-content/themes/reboot/vendor/wpshop/core/src/Advertising.php
on line
379
Notice
: Trying to access array offset on value of type bool in
/var/www/motogmanual/data/www/motogmanual.com/wp-content/themes/reboot/vendor/wpshop/core/src/Advertising.php
on line
379
Notice
: Trying to access array offset on value of type bool in
/var/www/motogmanual/data/www/motogmanual.com/wp-content/themes/reboot/vendor/wpshop/core/src/Advertising.php
on line
379
Notice
: Trying to access array offset on value of type bool in
/var/www/motogmanual/data/www/motogmanual.com/wp-content/themes/reboot/vendor/wpshop/core/src/Advertising.php
on line
379
Notice
: Trying to access array offset on value of type bool in
/var/www/motogmanual/data/www/motogmanual.com/wp-content/themes/reboot/vendor/wpshop/core/src/Advertising.php
on line
379
Notice
: Trying to access array offset on value of type bool in
/var/www/motogmanual/data/www/motogmanual.com/wp-content/themes/reboot/vendor/wpshop/core/src/Advertising.php
on line
379
Notice
: Trying to access array offset on value of type bool in
/var/www/motogmanual/data/www/motogmanual.com/wp-content/themes/reboot/vendor/wpshop/core/src/Advertising.php
on line
379
Notice
: Trying to access array offset on value of type bool in
/var/www/motogmanual/data/www/motogmanual.com/wp-content/themes/reboot/vendor/wpshop/core/src/Advertising.php
on line
379
Notice
: Trying to access array offset on value of type bool in
/var/www/motogmanual/data/www/motogmanual.com/wp-content/themes/reboot/vendor/wpshop/core/src/Advertising.php
on line
379
Notice
: Trying to access array offset on value of type bool in
/var/www/motogmanual/data/www/motogmanual.com/wp-content/themes/reboot/vendor/wpshop/core/src/Advertising.php
on line
379
Notice
: Trying to access array offset on value of type bool in
/var/www/motogmanual/data/www/motogmanual.com/wp-content/themes/reboot/vendor/wpshop/core/src/Advertising.php
on line
379
Notice
: Trying to access array offset on value of type bool in
/var/www/motogmanual/data/www/motogmanual.com/wp-content/themes/reboot/vendor/wpshop/core/src/Advertising.php
on line
379
Notice
: Trying to access array offset on value of type bool in
/var/www/motogmanual/data/www/motogmanual.com/wp-content/themes/reboot/vendor/wpshop/core/src/Advertising.php
on line
379
Notice
: Trying to access array offset on value of type bool in
/var/www/motogmanual/data/www/motogmanual.com/wp-content/themes/reboot/vendor/wpshop/core/src/Advertising.php
on line
379
Notice
: Trying to access array offset on value of type bool in
/var/www/motogmanual/data/www/motogmanual.com/wp-content/themes/reboot/vendor/wpshop/core/src/Advertising.php
on line
379
Notice
: Trying to access array offset on value of type bool in
/var/www/motogmanual/data/www/motogmanual.com/wp-content/themes/reboot/vendor/wpshop/core/src/Advertising.php
on line
379
Notice
: Trying to access array offset on value of type bool in
/var/www/motogmanual/data/www/motogmanual.com/wp-content/themes/reboot/vendor/wpshop/core/src/Advertising.php
on line
379
Notice
: Trying to access array offset on value of type bool in
/var/www/motogmanual/data/www/motogmanual.com/wp-content/themes/reboot/vendor/wpshop/core/src/Advertising.php
on line
379
Notice
: Trying to access array offset on value of type bool in
/var/www/motogmanual/data/www/motogmanual.com/wp-content/themes/reboot/vendor/wpshop/core/src/Advertising.php
on line
379
Notice
: Trying to access array offset on value of type bool in
/var/www/motogmanual/data/www/motogmanual.com/wp-content/themes/reboot/vendor/wpshop/core/src/Advertising.php
on line
379
Notice
: Trying to access array offset on value of type bool in
/var/www/motogmanual/data/www/motogmanual.com/wp-content/themes/reboot/vendor/wpshop/core/src/Advertising.php
on line
379
Notice
: Trying to access array offset on value of type bool in
/var/www/motogmanual/data/www/motogmanual.com/wp-content/themes/reboot/vendor/wpshop/core/src/Advertising.php
on line
379
Notice
: Trying to access array offset on value of type bool in
/var/www/motogmanual/data/www/motogmanual.com/wp-content/themes/reboot/vendor/wpshop/core/src/Advertising.php
on line
379
Notice
: Trying to access array offset on value of type bool in
/var/www/motogmanual/data/www/motogmanual.com/wp-content/themes/reboot/vendor/wpshop/core/src/Advertising.php
on line
379
Notice
: Trying to access array offset on value of type bool in
/var/www/motogmanual/data/www/motogmanual.com/wp-content/themes/reboot/vendor/wpshop/core/src/Advertising.php
on line
379
Notice
: Trying to access array offset on value of type bool in
/var/www/motogmanual/data/www/motogmanual.com/wp-content/themes/reboot/vendor/wpshop/core/src/Advertising.php
on line
379
Notice
: Trying to access array offset on value of type bool in
/var/www/motogmanual/data/www/motogmanual.com/wp-content/themes/reboot/vendor/wpshop/core/src/Advertising.php
on line
379
Notice
: Trying to access array offset on value of type bool in
/var/www/motogmanual/data/www/motogmanual.com/wp-content/themes/reboot/vendor/wpshop/core/src/Advertising.php
on line
379
Notice
: Trying to access array offset on value of type bool in
/var/www/motogmanual/data/www/motogmanual.com/wp-content/themes/reboot/vendor/wpshop/core/src/Advertising.php
on line
379
Notice
: Trying to access array offset on value of type bool in
/var/www/motogmanual/data/www/motogmanual.com/wp-content/themes/reboot/vendor/wpshop/core/src/Advertising.php
on line
379
Notice
: Trying to access array offset on value of type bool in
/var/www/motogmanual/data/www/motogmanual.com/wp-content/themes/reboot/vendor/wpshop/core/src/Advertising.php
on line
379
Notice
: Trying to access array offset on value of type bool in
/var/www/motogmanual/data/www/motogmanual.com/wp-content/themes/reboot/vendor/wpshop/core/src/Advertising.php
on line
379
Notice
: Trying to access array offset on value of type bool in
/var/www/motogmanual/data/www/motogmanual.com/wp-content/themes/reboot/vendor/wpshop/core/src/Advertising.php
on line
379
Motorola Moto G Google Play edition softly became available for purchase in United States. The characterful smartphone with stock Android is priced at $179 for the 8GB version and $199 for a device with 16GB of built in memory. The dual-SIM Moto G also has landed in Australia now. The Moto G (CDMA) will be available in the US in January through carriers as previously announced. See the official Motorola website for more details and contact your carrier for compatibility.
The Moto G Google Play edition can be used with the HSPA bands of AT&T and T-Mobile in the United States. LTE connectivity is not accessible, though its existence should barely be a deal breaker in this budget.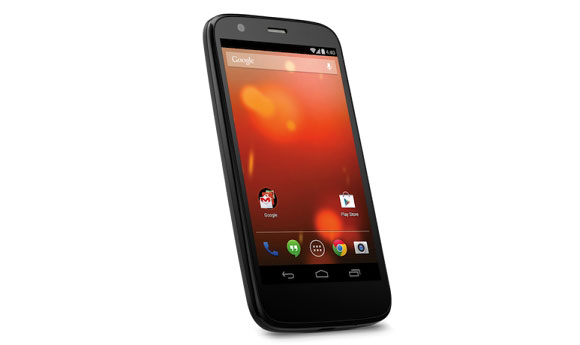 There's not any different between the specs of the Google Play variation Moto G and its regular sibling. They include Qualcomm Snapdragon 400 SoC, 4.5″ 720p screen, 5MP camera, and 2,070mAh battery. You can read the full specs here.
Motorola Moto G Google Play Edition Feature
A brilliant 4.5-inch HD display – the sharpest in its class – that goes edge to edge so you can enjoy movies, photos, video chats and more.
The newest Qualcomm® Snapdragon™ 400 processor featuring a quad-core CPU for seamless multitasking and enjoying the web, videos and games, with all-day battery life.
Android 4.3 Jellybean, the most up to date Android of any phone in its class, with a guaranteed upgrade to Android 4.4 KitKat in the beginning of 2014. No skins to clutter or slow the experience and great performance with Google's unbeatable mobile services such as Gmail, YouTube, Google Maps, Chrome and Hangouts.
Stylish design with a comfortable curved back and 19 customization options, including interchangeable backs (coming soon) – Motorola Shells and Flip Shells in seven colors as well as Grip Shells in five colors.
There is no word on international access to the Moto G Google Play edition. Considering its affordable cost, it will not be a surprise if the GPE handset sees a wide release.